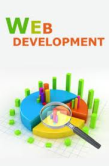 Services
We can help you develop your website to attract customers, make web and mobile applications that help to retain them. We can create software to make your business more efficient and reduce cost.
We work across software applications, networking systems, operating systems, messaging systems, protocols etc. to architect, design, develop, deliver and implement a software system.
Our domain expertise combined with our technological excellence brings down our client's application development time as well as future application life cycle times. Arride works with both proprietory and open source technologies on a variety of development stacks and frameworks.
Our project management capabilities mean that we are able to effectively solicit requirments from your decision makers, provide quality inputs and get fast speed of execution.
If you choose to engage with Arride remember that customer satisfaction comes first in our list of priorities.
Sample Services
Web Design
Web Development
Mobile Apps Development
Content Management
eLearning
Technologies